Amy MacFarlane is a PhD student at the Institute for Snow and Avalanche Research (SLF) in Davos. As part of her thesis, she took part in the largest polar expedition in history: for nearly a year, she and hundreds of other scientists drifted through the Arctic Ocean on a ship – the German icebreaker "Polarstern" – to gain insights into how this fragile region is affected by climate change. On the other hand, this also made her question the environmental impact of conducting research.
A physicist in the Arctic
Sea ice observation and polar bears might not be what first comes to mind when you think of physics, but Amy asserts that her educational background was important in shaping her career so far: "I always found physics intriguing, especially because of the wide range of fields it spans. When I heard about snow physics for the first time, I thought it was something abstract – I understood nothing about it, and it fascinated me that people could do this as a job." It didn't take long until she applied for an internship in snowy Davos. "I fell in love with the place and loved that the work was so practical! I never thought it was possible for me to pursue a PhD, until Martin Schneebeli [Head of the Snow physics team at SLF, journ. note] suggested I apply to a doctoral thesis as part of the MOSAiC expedition. Knowing that he trusted me in this role gave me the confidence I needed to go for it."
Even though she had some experience with polar expeditions, the road from fresh PhD candidate to weathered arctic researcher wasn't simple. "I knew what expeditions could be like, but the scale of this one was like nothing I could ever imagine. There was a lot of non-standard training, since we were preparing for a unique situation. As part of our firefighting course, we got dressed in full heatproof clothing, put into a burning building where we saw nothing but smoke and had to get out. It was quite crazy. And I actually went to the gym for the first time!", she laughs, before explaining: "We had to lift a lot of heavy equipment for measurements in the field, and you can't afford hurting your back on week one." One of the crucial points of the training was watching out for polar bears. "We went to Northern Germany for shooting practice, where they prepared us for stressful situations by shouting at us while we had to load and shoot guns on a range." When asked if she was scared something might happen to her during the long period of isolation from civilization, she shrugs: "At the end of the day you're on an expedition in the middle of nowhere, and there are some dangers you need to accept. Our training was extensive, there was a doctor onboard and I'm not very accident-prone, so I'm quite relaxed in that sense."
The first polar expedition impact assessment
After her stay, Amy and a small group of early-career researchers decided to break boundaries within the scientific community by publishing the first-ever emissions impact assessment for polar expeditions. Through their work, they want to show that even scientists, who try to understand climate change, can't avoid impacting the environment themselves. "Onboard, we started discussing how we could reduce our impact and conduct science more responsibly. When we eventually got off the ship, we realized that the first step to making a difference would be to quantify our emissions and understand the numbers that go along with the expedition. We have accumulated all this experience from working for a year in the Arctic that could equally well be applied to making a meaningful carbon footprint assessment and reduction plan. Some issues like the material used or the way the instruments were deployed makes you think: yes, it is necessary to collect the data right now, but can we do it differently in the future?"
She points out that being open and honest about the emissions caused by the expeditions could lead to a shift in the community. By improving the existing sustainability infrastructures outlined in the MOSAiC sustainability factsheet, the young scientists hope to set an example for future research endeavors. "We want to go to the forefront and say: 'Yes, this does produce CO2. Let's be transparent about it and show that the experimental data we collected was worth the impact. Look at what we are doing, listen to our message, because we polluted the environment to give it to you.'"
Amy is quick to answer when we ask what exactly that message is: "Policy needs to work alongside science.", she declares. "In research there is this idea that if you publish papers, it will make a difference, which of course advances our scientific understanding in the long run, but I believe that contributing to science policy is essential to initiate changes. I undertook a course to better understand how research is needed to influence political decisions, and it highlighted that scientists and policymakers need to work together. We already know that changes are happening – we are just trying to understand their processes and implications in more detail. On top of that, there isn't going to be one big solution for our problems, so we need to test and experiment with different approaches to find a solution." She does still point out that polar research has its place within these solutions. Field work helps provide ground truth for observations made by satellites and can contribute to reducing uncertainties in state-of-the-art climate models.
While the effort to publish the impact assessment is being applauded by some in the community, others remain skeptical. "I think it's safe to say we've received quite a lot of resistance, because it's hard for us scientists to admit that our work is polluting. It's a sore point, but I think we can overcome that and see that understanding our impact means we can actually improve it. There is also always this balance between collecting data, analyzing existing data and being sustainable. If you allow infinite data collection, the emissions will be much higher because of travelling, the equipment, and conducting work in remote areas."
The impact reports themselves can also prove to be valuable when engaging with funding agencies, policymakers, and the general public. Due to the many countries involved in owning and deciding over territories in the Arctic, it is difficult to get a uniform policy in place. "Our agenda right now is to urge people to assess their own research questions and look at their own impacts. Then we can ask funding agencies to request impact reports and take them into consideration when accepting projects." This way, a trillion-dollar expedition where bigger is better might not look as appealing anymore. Additionally, having written accounts of your emissions might serve as good PR when the results are shared publicly – at least when the numbers are low.
Amy therefore sees the next step as promoting future research that focuses on analyzing previously gathered data. Less exhilarating for the scientists, but much more sustainable. "With MOSAiC we have a good dataset that we can keep analyzing for the next few years. By setting up these relations among scientists and funding agencies you can increase the value of the data per carbon emitted."
Making a difference – on all levels
When working on a large-scale project like MOSAiC, it can be easy to lose sight of its overarching goals and consequences. Despite all her achievements, Amy still admits to having doubts about how significant her role in facing the challenges posed by climate change is. "Sometimes it's hard to think that I'm making a difference. I'm really looking at just one particular sea ice process. But with research, it's like a domino effect: you don't know what your research will lead to in the end." On a personal level, she also highlights what might be a familiar dilemma for international ETH students: "My day-to-day life is very sustainable, but I do struggle with flights: coming from the UK, living in Switzerland and having a partner in Norway makes travelling sustainably a frequent internal battle."
As our talk comes to an end, Amy is happy to give some advice for physics students with an interest in polar research. "All I did was to think "Ok, that's interesting, let's find out more!". It's incredibly valuable to send emails, meet the people in the field and have discussions. Especially with MOSAiC, I was working alongside many renowned scientists; it really helped me get relaxed about talking to them, even if I didn't understand exactly what their research was. In the end they've been where you are now. There are people along the way who are going to help guide you, push you and keep fighting that battle with you." Finally, she stresses that physicists can contribute to sustainability, regardless of their expertise. "Physics is extremely valuable from a process understanding point of view. Since it's so multidisciplinary, I think all you can do is finding something you're interested in with an idea of how to make it more sustainable."
---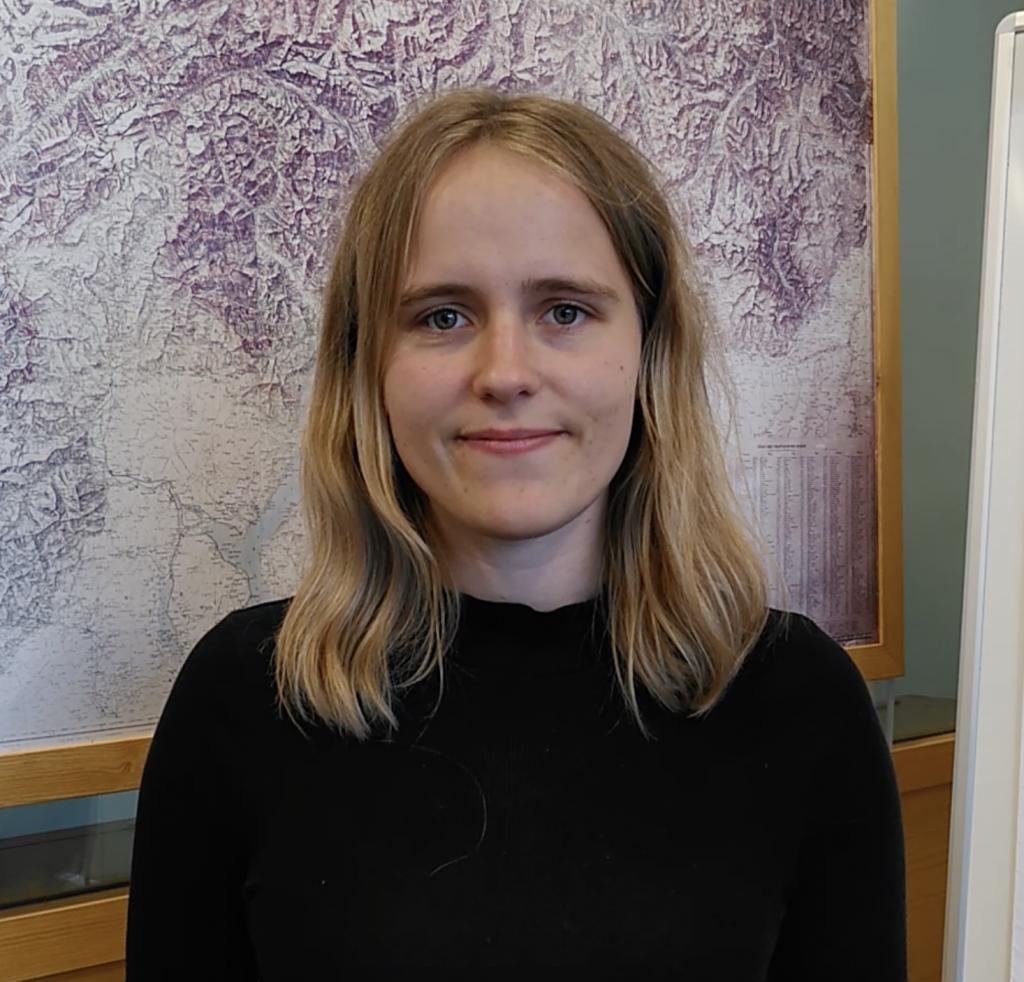 About the Author
Luna Bloin-Wibe recently finished her MSc Physics degree at ETH Zurich and is currently pursuing a PhD degree at the Institute for Atmospheric and Climate Science at ETH. During her master studies, she was vice-president of the Student Sustainability Commission, member of the Sustainability Commission at the physics department and has promoted the crediting of sustainability-related courses in the physics curriculum.